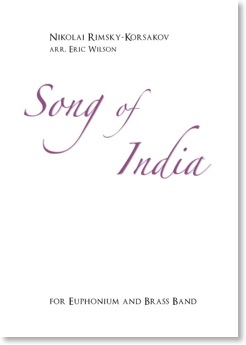 Song of India
is now available in a version with Brass Band accompaniment. The piano accompaniment version has been set for Trinity College music exams for 2019–22 (Grade 5) so this new brass band version allows young soloists to gain solo experience with their band! A concert band edition will be available soon.

Click here for full details.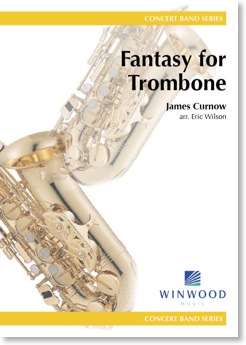 James Curnow's popular
Fantasy for Trombone
is now available in a version with Concert Band accompaniment –
click for details!
Already available with
piano
or
brass band
, this much-requested arrangement gives trombonists even more options!

New Titles for Euphonium players...

Arranger and Music Editor Eric Wilson has provided euphonium players with a few more gems!


Dating from the 1940s, British composer Frank Bridge's
Meditation
is an effective balm for the soul. Its soothing, melancholy melody – rather Elgarian in style – flows serenely and perfectly suits the warm voice of the euphonium. Bridge's love for expressive music is certainly apparent, with melodic ideas that sing over a rich harmonic accompaniment.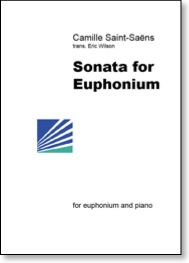 Saint-Saëns didn't write this piece for euphonium, of course – the title is the arranger's. He did, though, toward the end of his life, write sonatas for three 'neglected' instruments: oboe, clarinet, and in 1921, bassoon. It's from this, his final work, that the present transcription has been made. Aimed to fill a gap in the euphonium repertory of material of some substance suitable for advanced recital use by advanced players who can boast great technique and a full command of the instrument's range. Following the classical three movement model an opening movement alternates between major and minor key areas. A perky scherzo follows; also trading major and minor key sections in a virtuosic jaunt. (This movement works well as a stand-alone piece, too.) The interesting final movement begins with an extended adagio before a fast, showy final section requiring great panache!

'Song of India' (or more accurately the 'Song of the Hindu') from Rimsky-Korsakov's 'opera-bilina'
Sadko
provides a technical challenge as well as a musical one, requiring a great degree of control and accurate intonation as the subtly varied chromatic phrases weave their way over a gently undulating, almost hypnotic accompaniment.


Engraved and presented to the highest standards as you'd expect. Supplied with soloist parts in both treble and bass clef.


Buy Online Now!



We have a new Editor's Choice for you...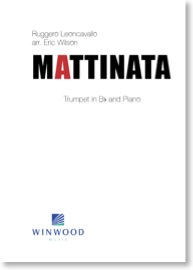 Click on the image for details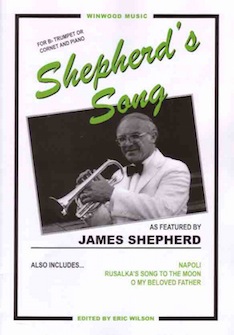 New – Deal of the Week!

Recently our Music Editor and arranger/orchestrator Eric Wilson received a request for information from an A-Level student, Christopher Tomlin, about the best-selling
Shepherd's Song
album. We felt his responses might be of interest to a wider audience, so here they are...

How did you come to write these arrangements for James Shepherd?

Following the success of two euphonium albums published in collaboration with Robert and Nicholas Childs it seemed logical to prepare an album for cornet or trumpet players. I had worked with James Shepherd when we were both coaches for the National Youth Brass Band of Great Britain so he was the obvious choice of collaborator from my point of view and was very well known to brass players. We favoured the album format rather than issuing separate publications as we felt it offered better value to the customer – who may well be a parent buying on behalf of their son or daughter preparing (we hoped) for exams.


How did you select these pieces? Was it a collaboration with him?

The first piece was an obvious starting point – I've always enjoyed word-play and puns, and the melody was too tempting to avoid. James Shepherd was a versatile player, but his skill in lyrical playing always impressed me and the album is mainly in that style. There was a bit of a vogue for operatic arias around the time (a throwback to the early days of brass bands?) and 'Song to the Moon' seemed to offer something different. There had to be some Puccini (one of my favourite composers) though, and 'O mio babbino caro' offered a nice short encore opportunity. 'Napoli' filled the 'air varie' slot which had worked well in the euphonium albums. To be honest, after 26 years, I can't really recall the selection process, but our usual method was to draw up a list of possible titles and whittle it down to a suitable balanced list with which we were all happy.


Did James Shepherd give you any guidelines when arranging these pieces?

I don't recall any specific guidelines – it was a very natural process – but the aim was to provide interesting arrangements for the players while not unduly over-loading the accompanist. I simplified the Dvorak figurations a bit, tried to add some variety in 'Napoli', and couldn't resist a little Bach quote in 'The Shepherd's Song'. Incidentally, one of my students at the Royal College of Music recently told me he'd accompanied a young exam candidate in the arrangement but when I asked if he liked the quotation he hadn't spotted it! Either it's well-concealed or he doesn't know his Bach! [For the record there's a hint of 'Sheep may safely graze' right at the end.]


When and where were they first performed and did the acoustics of the venue shape your arrangements?

The album was prepared for publication rather than a specific performance so I'm afraid I don't know when they were first performed other than our own tests. It's impossible to plan for all acoustics so the arranger has to trust performers to make adjustments as required.


Could you offer me any advice in performing these pieces, particularly The Shepherd's Song, Rusalka's Song to the Moon, and O My Beloved Father which I will be playing?

Oh my! Where do we start? Each of these pieces require a nice rich tone and musical phrasing. Look for the over-arching musical phrases and try to shape those nicely. In the case of the operatic arias listen to some of the great opera singers – those who do it on stage, that is – and absorb some of their style – don't simply copy it, though! Above all, work on your breathing and tone. I'll share with you some advice given to me by Harry Mortimer (doyen of brass band cornet players and conductors): get the sound right and everything else will follow.
Thanks so much for asking these questions and all the very best with your exam.
Eric Wilson March 2015
Hummel's
Fantasy
is our new Featured Publication –
click here for details!

Part of our
Virtuosi Collection
, this popular work gives euphonium players a great chance to display their full range of musical skills!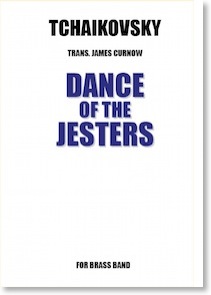 New Title!
An exciting new addition for brass bands from renowned composer and arranger James Curnow


Click Here for full details
Brand New Deal of the Week!


New – Digital Edition for Download!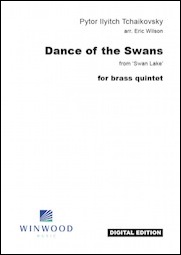 We are delighted to announce our first Digital Edition – available for download now!

Tchaikovsky's ballet 'Swan Lake' has always been popular and this well-known movement makes an ideal encore for brass quintet.


Full score and parts including alternate parts for brass band instruments.


Digital Editions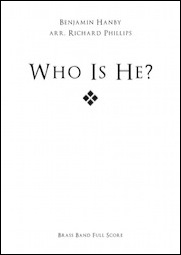 Published by popular request!

Richard Phillips' ever-popular brass band arrangement of the Christmas hymn
Who Is He?
is now available in a brand new edition complete with SATB choral parts!

The vocal score, which is fully compatible with the brass band version, provides a keyboard reduction for rehearsal or performance without band, making this an extremely versatile piece.

Vocal scores are available in packs of 10 or 20 in the Vocal / Choral section of our Online Shop.

Click here for more details
!

The brass band arrangement is
available here
.
Other Christmas Music and Carols for Choirs for Brass Band
Now is an ideal time to add to your collection in time for Christmas!
Simply follow the links below, or go to the Online Shop – you're only a few clicks away from a great new addition to your library!

Christmas Music
Carols for Choirs


Just Released! Time for a Tango?

This new arrangement by Eric Wilson of Albéniz' famous Tango is just the thing for a Summer concert – about two minutes in duration it makes an ideal encore!
Available now
.
William Walton: Music for Brass

Winwood Music
is delighted to announce the publication of the brass music of Sir William Walton.


In association with Walton's publisher, Oxford University Press, we are able to make available all of the composer's original music for brass – some are available for the first time!

These newly edited editions draw on the scholarship of the OUP's Walton Edition, and present the collected brass music in practical performing editions.

For full details visit our Publication News page or download a brochure.



Recently released – Stunning New Euphonium Solo!


Winwood Music
is delighted to announce the publication of this stunning virtuoso solo for Euphonium and Piano arranged by Eric Wilson.


Antonio Bazzini
(1818–97) was admired in his lifetime as both composer and virtuoso violinist by such luminaries as Schumann and Mendelssohn. Later he held a position at the Milan Conservatory, teaching the likes of Mascagni and Puccini, but he is remembered today almost exclusively for this violin showpiece which dates from 1852.

La Ronde des Lutins Op. 25 is described as a 'scherzo fantastique' and puts the soloist through their paces using all manner of playing techniques – ricochet bowings, double-stop tremolos, false harmonics and so on all wrapped up in a neat rondo structure.

Eric Wilson's name is well known to euphonium players as he has made lots of arrangements and transcriptions for the instrument. While many of these have featured the mellifluous, melancholic sounds at which the euphonium excels, this arrangement is unashamedly for the virtuoso! It assumes facility with the full range of the modern four-valve instrument and while some alternatives are provided, the soloist should feel free to adjust and adapt things to suit their own preferences.

Buy Now



Elgar Howarth's
Brass Connection
We are delighted to announce the addition of five new titles to this series of brass ensemble music. For full details see the BRASS CONNECTION page in our Online Shop.

BRASS CONNECTION is a series dedicated to providing a range of brass chamber groups with music of undoubted quality and substance under the guidance of one of the world's leading experts.

Elgar Howarth has set the standard of modern brass arranging and some of his classic ensemble arrangements are published for the first time in this series. Each title features a full score and alternative parts for brass band instruments where suitable, all beautifully presented.


Recent Publications...


Concerto for Trumpet
by Harry James piano version recently published –
CLICK HERE
for details!


plus...

Centenary Fanfare
by Ray Steadman-Allen recently published –
CLICK HERE
for details!